The Best Place To Buy And Sell Your Used Plant - Tools And Equipment
Search
Showing 1 - 3 of 3 items

Overall length 8ft 6ins. Max overall height inc hand rails 8ft.
A top quality built set if steel inspection stairs.
All durbar / chequer plate steel steps and top plate / landing area for extra grip.
Built for electricity board power station, so very well built.
Industrial Steel Staircase with 4ft square landing/ inspection area. 4ft high. 4ft wide steps with full surround safety handrails.
£695 +VAT ono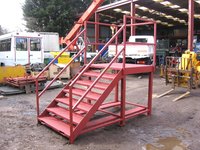 Showing 1 - 3 of 3 items